Internet Crimes Against Children Conference
Internet Crimes Against Children (ICAC) Conference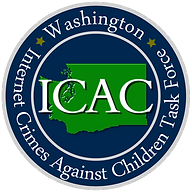 Seattle Police Foundation supports the annual Northwest Regional ICAC Conference, providing highly specialized training for law enforcement investigators, digital forensic examiners, and prosecutors. The conference focuses on technology-facilitated crimes against children and draws hundreds of attendees from Washington State, across the country and Canada. The Northwest Regional ICAC Conference provides an invaluable forum where law enforcement, industry, and solution providers can meet, exchange perspectives and improve collaboration so they can continue their mutual goal of fighting against internet crimes against children.
Your support of Seattle Police Foundation provides clear, measurable results for making Seattle safer.
This conference serves as an opportunity for SPD to stand as a leader in the fight against child sexual exploitation. The ICAC Program is a national network of 61 coordinated task forces representing over 3,500 federal, state, and local law enforcement and prosecutorial agencies. These agencies are engaged in both proactive and reactive investigations, forensic investigations, and criminal prosecutions. Since its inception, the ICAC Program has been responsible for the investigation of more than 3.9 million complaints involving child pornography, nearly 34,000 complaints involving sex tourism and sex trafficking, and 29,867 complaints involving child non-familial sexual exploitation.
Visit the NW Regional ICAC Conference website for information about the 2023 NW Regional ICAC Conference. The WA ICAC Task Force is currently looking for sponsors for the 2023 conference. If you have questions or are interested, or know anyone who would like to help, please reach out to ICAC Strategic Advisor Kelly Crouch at: Kelly.Crouch@seattle.gov.
8th Annual NW Regional ICAC Conference 
The 2022 NW Regional Internet Crimes Against Children (ICAC) conference was an incredible success! Once again, SPF was proud to be a partner in this important conference. This year's event took place during the first week in October, and boasted record attendance levels, new features, 27 exhibitor tables, and a variety of educational sessions taught by experts in the field.
The three-day conference welcomed a total of 672 attendees and featured 118 speakers who presented a total of 130 sessions, including a course on 'Advanced Interview Techniques' by world renowned forensic psychologist Dr. Joe Sullivan. A known expert in his field, Dr. Sullivan has worked in law enforcement since 1996, assisting with investigations into crimes against children.
We'd like to thank this year's team of conference sponsors, including Cellebrite, Google, OUR, Griffeye, Meta, SEARCH, NCJTC, and Fox Valley Technical College. Additional thanks goes out to our 27 exhibitors, whose contribution and presence at the conference allows our attendees to learn about the newest industry-leading tools and technology to assist in these investigations.
As lead agency of the WA ICAC Task Force, SPD strives to keep this annual conference free for attendees to ensure its accessibility to all who wish to attend, no matter the agency size or budget, which is why sponsorship is so key. This conference is a unique opportunity to leverage collaboration and expertise among investigators, prosecutors, advocates, educators, tech industry professionals, and all others in the arena of keeping kids safe in our region, across the nation, and around the world.
Over 15 countries were represented at this year's conference.
Sponsorship is crucial to the continued success of this conference and our team is grateful for the generosity of the conference sponsors. Because of this resounding support, the WA ICAC TF was able to provide grants for hotel/travel expenses to roughly 60 smaller agencies in Washington, Oregon, and Idaho, that wished to attend but lacked travel budget.
Lastly, huge thanks to conference partner Microsoft for hosting!