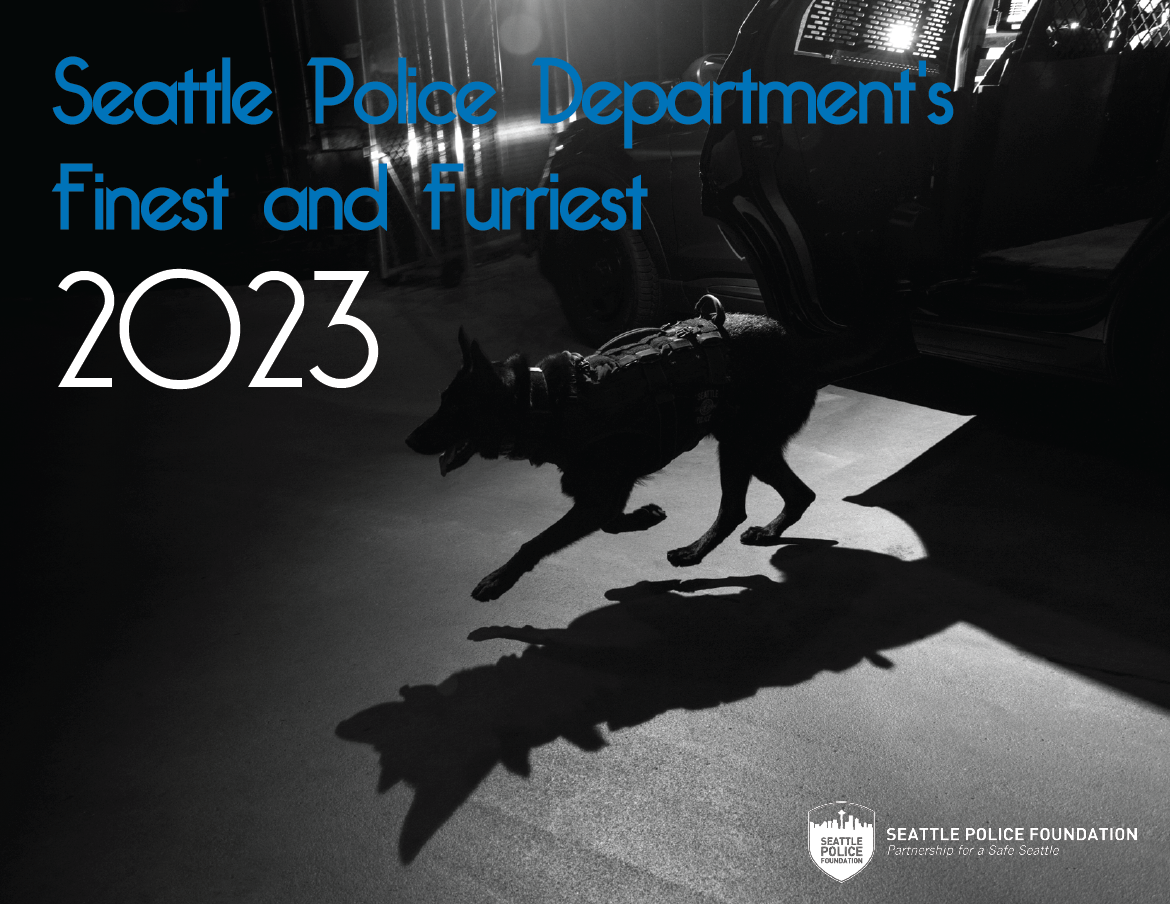 First ever calendar benefits Seattle Police animal care and the SPD Photo Unit
FOR IMMEDIATE RELEASE: November 17, 2022
Media Contact:
Chris Hendrickson, Communications Manager
Seattle Police Foundation
425-205-0328 ● chris@seattlepolicefoundation.org
SEATTLE, Wash. – The Seattle Police Foundation is excited to present the 2023 Seattle Police Department's Finest and Furriest Calendar, a first ever fundraising initiative that supports Seattle Police animal care and the SPD Photo Unit.
Meticulously crafted by SPD and SPF staff, this custom, professionally shot calendar offers a showcase of SPD's four-legged law enforcement professionals, plus a few Seattle Police Foundation friends. The images are compelling, shot in a dusky, film noir style that clearly positions the animals as the stars of the show. Best of all, it features both the Canine Unit and the Mounted Patrol Unit.
This calendar is available for a $45 donation to the Seattle Police Foundation. They make great gifts for the animal lovers in your life and will arrive in your mailbox in plenty of time for the holidays.
Not only does Finest and Furriest raise money for SPF through the sale of the calendar, the opportunity to have a beloved family pet featured in the calendar was an auction item during the 2022 Celebrity Waiters Luncheon. The generous donations that earned the pups of May 2023 their esteemed position in the calendar's lineup have already been invested in programs and initiatives to support the men and women of the Seattle Police Department and enhance public safety in Seattle.
Order your copies before we sell out! Calendars are available at: Finest and Furriest 2023.
The Seattle Police Foundation raises support and awareness for the Seattle Police Department. We are a 501(c)(3) nonprofit and have proudly served the men and women of SPD and the Seattle community since 2002. Please learn more about us on our website.