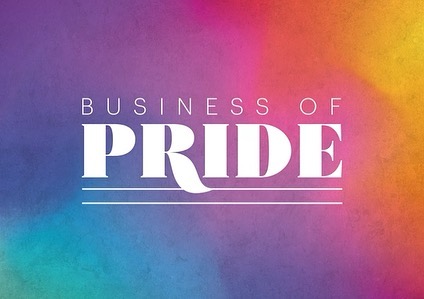 FOR IMMEDIATE RELEASE: June 1, 2023
Media Contact:
Chris Hendrickson, Communications Manager
Seattle Police Foundation
425-205-0328 ● chris@seattlepolicefoundation.org
SEATTLE, Wash. – The Seattle Police Foundation is excited to congratulate Officer Dorian Korieo for being recognized by the Puget Sound Business Journal as an Outstanding Voices awardee for 2023!
The nomination, judging, and selection process was overseen by the Puget Sound Business Journal, in partnership with the GSBA, and we couldn't be prouder. Officer Korieo and the other 10 honorees will be featured in the Business Journal's annual Business of Pride special section on Friday, June 9, so make sure you grab a copy! Additionally, Officer Korieo and the rest of the awardees will be recognized at next week's Business of Pride event on Thursday, June 8, at the Lotte Hotel Seattle.
Officer Korieo was nominated for this award for a number of reasons, including his tireless work to help make the Seattle Police Department and other departments across the country more inclusive, his commitment to the Safe Place program, and much more. Since becoming the Global Safe Place Coordinator in 2019, Officer Korieo has taken the program to new heights, achieving record levels of engagement and increased buy-in from participating agencies across the country.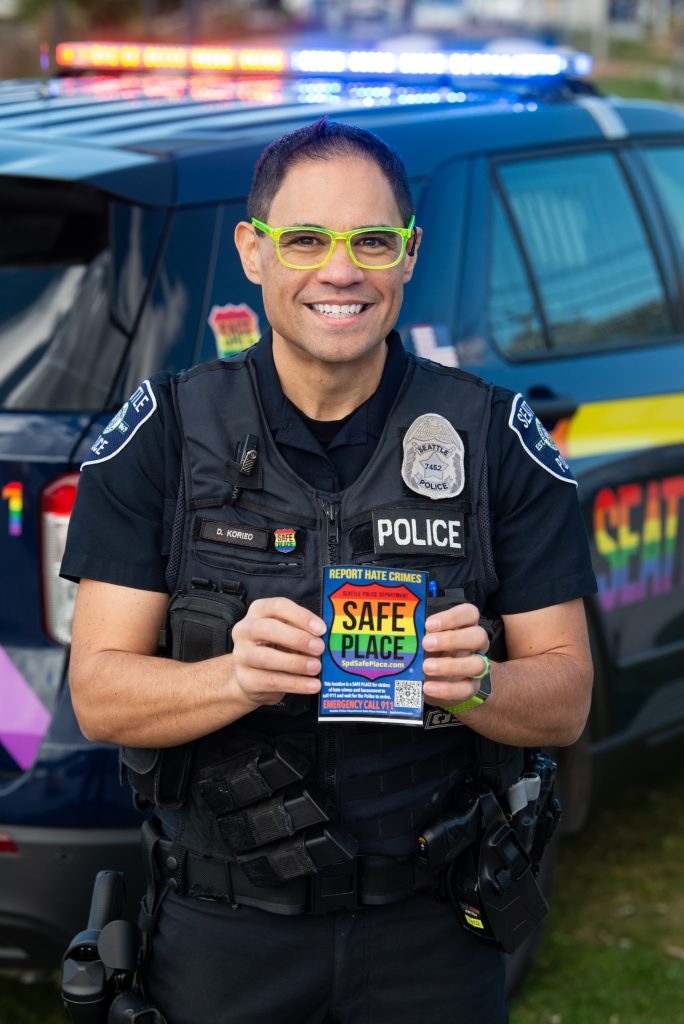 Importantly, the Safe Place program is about more than just a sticker in a window. It's an opportunity for the business community to take a collective stand against hate, not only in the Seattle community, but in communities around the world. The Seattle Police Foundation is excited to be a part of it.
Support from the Foundation helps to keep Safe Place materials stocked and ready to distribute. In 2020, we were excited to help make the Safe Place Program even more inclusive by translating and printing Safe Place stickers, training materials, and flyers in five non-English languages, including Chinese, Korean, Somali, Spanish, and Vietnamese.
In addition to overseeing Safe Place, Officer Korieo is the Department's full time LGTBQ+ Liaison, and works with members of the community on LGTBQ+ related issues, participates at community events, conducts direct outreach to LGTBQ+ survivors of bias or hate crimes, and investigates LGTBQ+ incidents. He helps manage SPD's twelve demographic advisory councils, including the LGBTQ Advisory Council.
Dorian is a pivotal force within the law enforcement profession, consistently working to reshape the way law enforcement interacts with people in the LGTBQ+ community. It is in this arena that he is creating systemic change, helping to bridge the gap between the police and the LGTBQ+ community, along with other underserved communities.
He hosts a statewide LGTBQ+ class at the Washington Basic Law Enforcement Academy (BLEA), which welcomes prospective officers from different agencies across the state. In addition to this, he conducts a four-hour class during SPD's brand new Before the Badge program, to teach SPD's pre-academy recruits about the history of Safe Place and LGTBQ+ inclusivity in Seattle, and explain how this relates to being a law enforcement professional in Seattle.
Importantly, his work in equity has grown to include updating and/or creating LGBTQ+ and transgender policies and procedures at the Seattle Police Department and at other agencies, driving important systemic change from within. Recognizing that Seattle needed to be a leader in this arena, he renovated SPD's internal department gender diversity policies, which hadn't been revised since 2014.
This year, the PSBJ is honoring 11 local LGBTQ business leaders, advocates, and allies, whose work has made this a more inclusive and welcoming business community. In addition to being SPD's LGBTQ+ Liaison, Officer Korieo is the Global Safe Place Administrator and just an all-around outstanding human.
The Safe Place program is a partnership between the police department, schools, and the business community created to respond to hate crimes. Each Safe Place location is signified by an easily recognizable rainbow-hued emblem, which is generally affixed near the door of a school or business in a highly visible location. The program was founded in 2014 and caught on quickly in Seattle.
Today, there are over 7,500 Safe Place locations in Seattle, and as of April 2023, the program has been licensed and enacted by 345 law enforcement agencies large and small, across the United States, in Canada, and in Europe. Safe Place has always been a successful initiative and well received by both the business and law enforcement communities, but now, it is positively flourishing.
Dorian's contributions to LGTBQ+ equality encompass the business community, the LGTBQ+ community, and the law enforcement community. This holistic approach is driving worldwide positive change!
The Seattle Police Foundation raises support and awareness for the Seattle Police Department. We are a 501(c)(3) nonprofit and have proudly served the men and women of SPD and the Seattle community since 2002. Please learn more about us on our website.
###