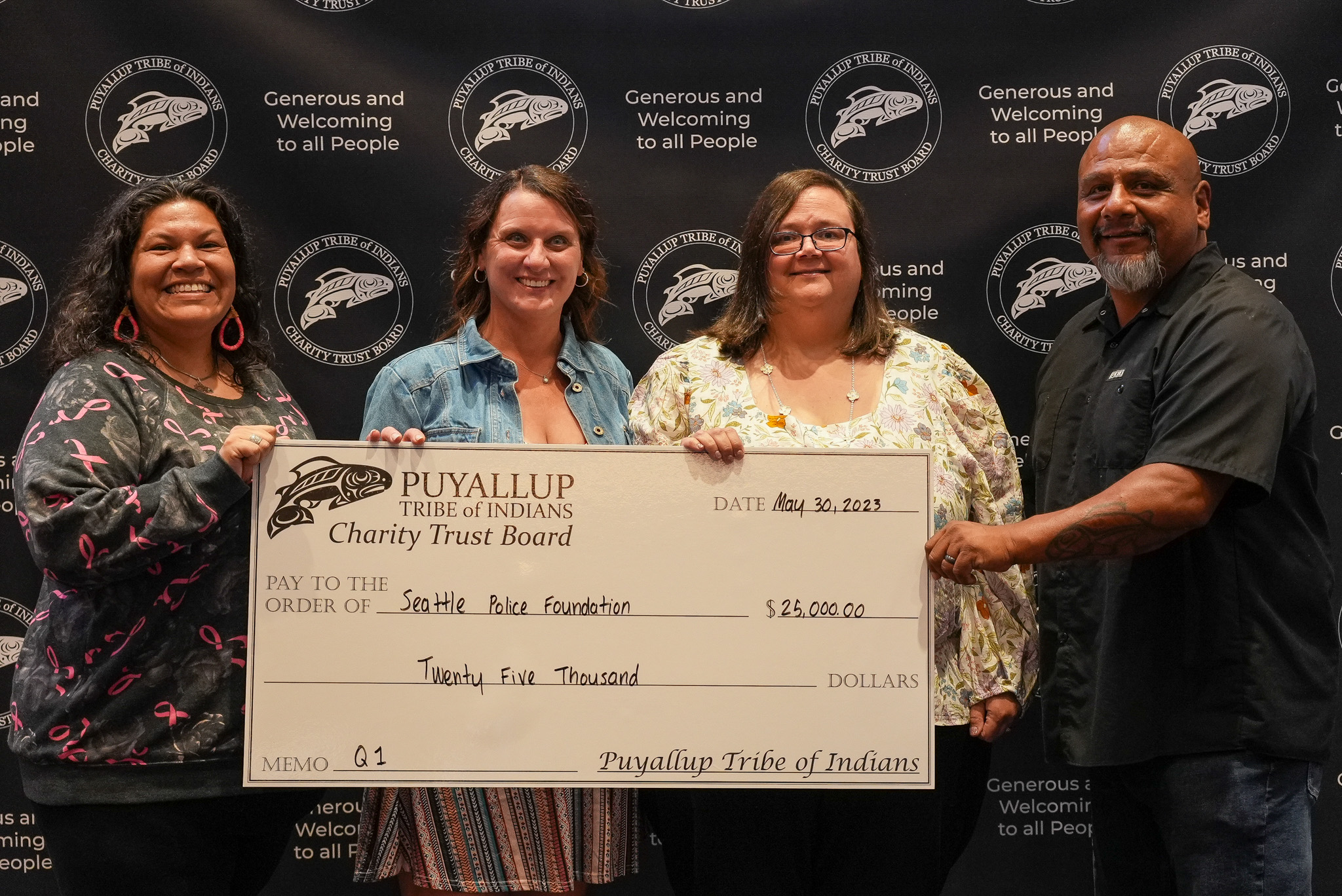 FOR IMMEDIATE RELEASE: June 7, 2023
Media Contact:
Chris Hendrickson, Communications Manager
Seattle Police Foundation
425-205-0328 ● chris@seattlepolicefoundation.org


SEATTLE, Wash. – On Tuesday, May 30, 2023, the Seattle Police Foundation was thrilled to receive a $25,000 grant from the Puyallup Tribe Charity Trust Board to support the work of the Seattle Police Department in its fight against technology-facilitated crimes against children.
"The Foundation is so grateful for this support," said Seattle Police Foundation CEO Cherie Skager. "We have made a commitment to the Seattle Police Department and the community to prioritize investments that will help hinder these crimes, and this helps us fulfill that promise."
The Seattle Police Department sits at the helm of the Washington State Internet Crimes Against Children Task Force (WA ICAC TF), a federal- and state-funded multijurisdictional alliance tasked with catching and prosecuting predators who lure and exploit children online. With the abundance of social media sites and the surge of online use stemming from the COVID-19 pandemic, internet-facilitated exploitation crimes against children, teens, and vulnerable young adults are at an all-time high.
"As the volume of these crimes continues to escalate across our state, so must the quality of our investigative infrastructure," said WA ICAC TF Strategic Advisor Kelly Crouch. "This funding helps us invest in important tools that will improve our ability to efficiently process, investigate, and solve these cases, while also preserving and protecting investigator wellness."
This funding will be pooled with other grant funding and donations from corporate and private SPF supporters to invest in the Griffeye Analyze platform, which not only offers ways to process evidence quicker, but also an intuitive, multifaceted science-based mental health safety net for investigators. The wellness enhancements built into this software suite help to alleviate the need for investigators to view each individual piece of graphic, disturbing material, allowing for greater efficiency processing evidence.
The Puyallup Tribe has donated over $17 million to hundreds of local organizations through its Charity Trust Board over the past decade. The Puyallup Tribal Council has donated millions more out of its own budget to help community organizations ranging from Rotary Club to Communities for a Healthy Bay.
We are grateful for all the Tribe does to support its neighboring communities.
For more information about ICAC, visit our website at: https://seattlepolicefoundation.org/internet-crimes-against-children-conference/.
The Seattle Police Foundation raises support and awareness for the Seattle Police Department. We are a 501(c)(3) nonprofit and have proudly served the men and women of SPD and the Seattle community since 2002. Please learn more about us on our website.