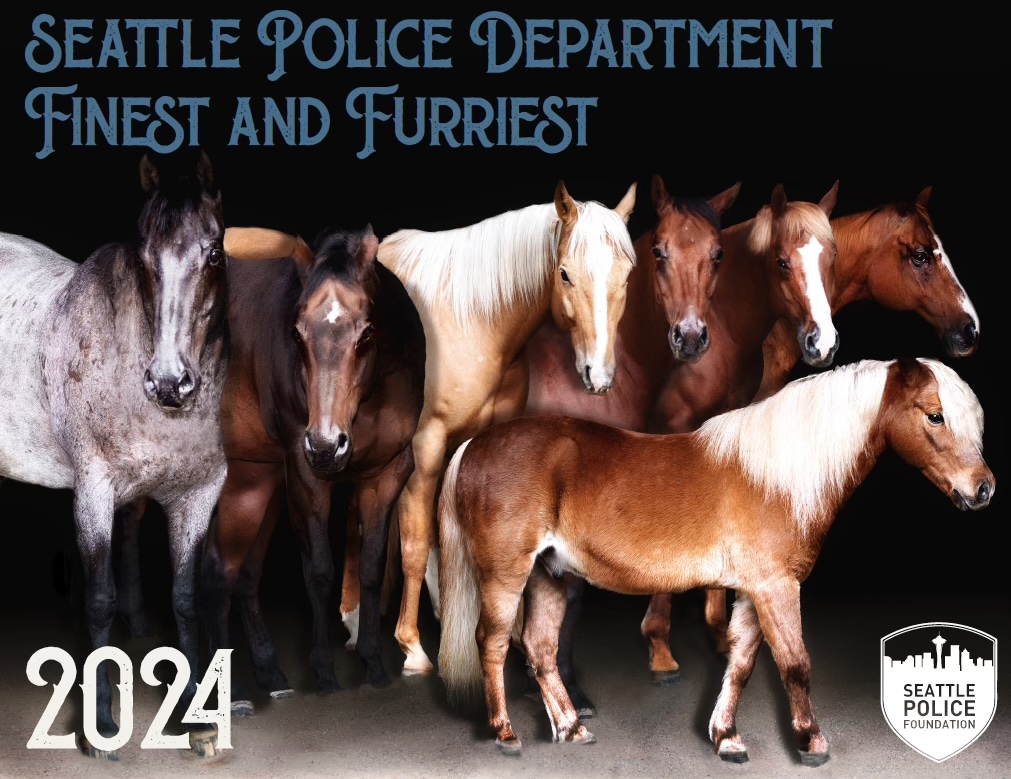 FOR IMMEDIATE RELEASE: November 15, 2023
Media Contact:
Chris Hendrickson, Communications Manager
Seattle Police Foundation
425-205-0328 ● chris@seattlepolicefoundation.org
This year's calendar supports the SPD Forensic Digital Imaging Section
SEATTLE, Wash. – The Seattle Police Foundation is excited to present the 2024 Finest and Furriest Calendar, a tribute to the Seattle Police Department Mounted Patrol Unit.
The calendar uses light and shadow to draw out the natural beauty of the magnificent horses of the MPU. Within the pages you'll find Police Horses Blue, Felix, Reno, Chance, Doobie, McLovin, and Police Pony Li'l Sebastian looking more beautiful than you've ever seen them, plus you'll learn more about each horse's distinct personality.
Proceeds from the calendar support the Seattle Police Department Forensic Digital Imaging Section, otherwise known as the Photo and Video Unit. Not only do the digital imaging professionals of SPD preserve and showcase the history of the Seattle Police Department through photos and videos, but they also deploy to crime scenes to capture crucial evidence via forensic photography.
Like other SPD Units, budget limitations hinder this Section's ability to invest in new technology. The funds raised through the sale of SPF's 2024 calendar help pay for things like camera equipment, specialized lighting, and more. The calendar is available for $25 and makes a great gift for the equestrian enthusiasts in your life. Importantly, it will arrive in your mailbox in plenty of time for the holidays.
Order your copies before we sell out! Calendars are available at: Finest and Furriest 2024.
The first round of calendar orders will be fulfilled the week of December 7, 2023, and then periodically through December and January.
The Seattle Police Foundation raises support and awareness for the Seattle Police Department. We are a 501(c)(3) nonprofit and have proudly served the men and women of SPD and the Seattle community since 2002. Please learn more about us on our website.