The Seattle Police Law Enforcement Explorers
The Seattle Police Law Enforcement Explorers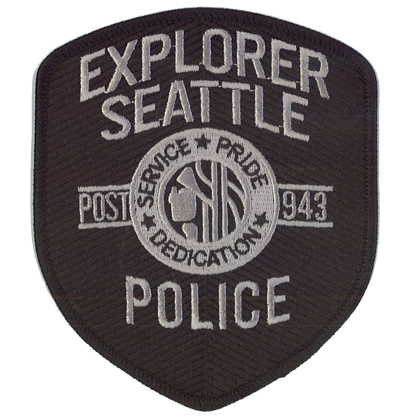 The Seattle Police Law Enforcement Explorer program helps bridge the gap between youth and the police department by providing a fun and real-life look at what it's like to work in law enforcement.
The Explorers program embraces experiential learning, allowing participants the unique opportunity to take a deep dive into law enforcement and learn more about police operations. This rewarding, dynamic program welcomes young men and women ages 14 through 21 for an immersive experience into the many facets of law enforcement, while allowing them to learn and practice leadership skills and serve their community by volunteering at various community events.
Serving as an Explorer is a great way to test the waters for youth interested in pursuing a career as a police officer. Even when Explorers don't go on to become police officers or deputies, they still benefit from leadership training, the camaraderie of the group, the discipline of attending regular meetings and activities, and their commitment to community service.
Officers and detectives with special skills are invited to Explorer meetings to explain how the police department investigates major crimes such as homicides, narcotics violations, and gang activity. Explorers also make in-person visits to units such as K-9, Mounted, and Harbor Patrol. The curriculum includes things like the history of law enforcement, note taking and study habits, patrol procedures, traffic control, crime scene investigation, vice and narcotics, search and arrest procedures, fingerprint lifting, and much more.
Unfortunately, police departments have increasing needs to balance, and youth programs like Explorers are often the first to be removed from departmental budgets. Currently, the Seattle Police Department budget does not include any funds for the Explorers, which is why support from the Seattle Police Foundation is so vital. SPF provides grant funds to Explorer Post #0943 advisors, which are used to pay for Explorer uniforms and equipment, food at training events, team-building experiences, and the annual week-long Explorer Academy.
Your support of the Seattle Police Foundation helps build pathways and improve outcomes for our youth. Please help us sustain this purpose-filled program by making a donation today!
The Explorers program is actively recruiting new Police Explorers! If you are interested in becoming an Explorer, please contact Officer Tre Smith at tre.smith@seattle.gov. To learn more about the Seattle Police Law Enforcement Explorers program, please visit the Explorers webpage.
Note: you do not have to be a Seattle resident to participate in the Seattle Police Explorers!