Investigations
Investigations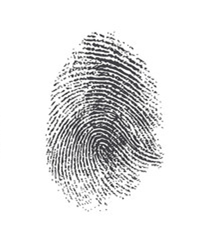 Police work is about a lot more than just enforcing the law. It's also about the deeply methodical work that takes place after police action is initiated.
The Seattle Police Foundation provides grants and funding to support the Criminal Investigations Bureau at SPD, plus the Forensic Photo Unit, the Video Unit, and others. Photo, video, and audio evidence is an integral part of modern investigations and can help provide SPD detectives with invaluable leads, help solve cases, and provide closure to families impacted by crime.
Help Seattle Police Department Investigators Solve Crimes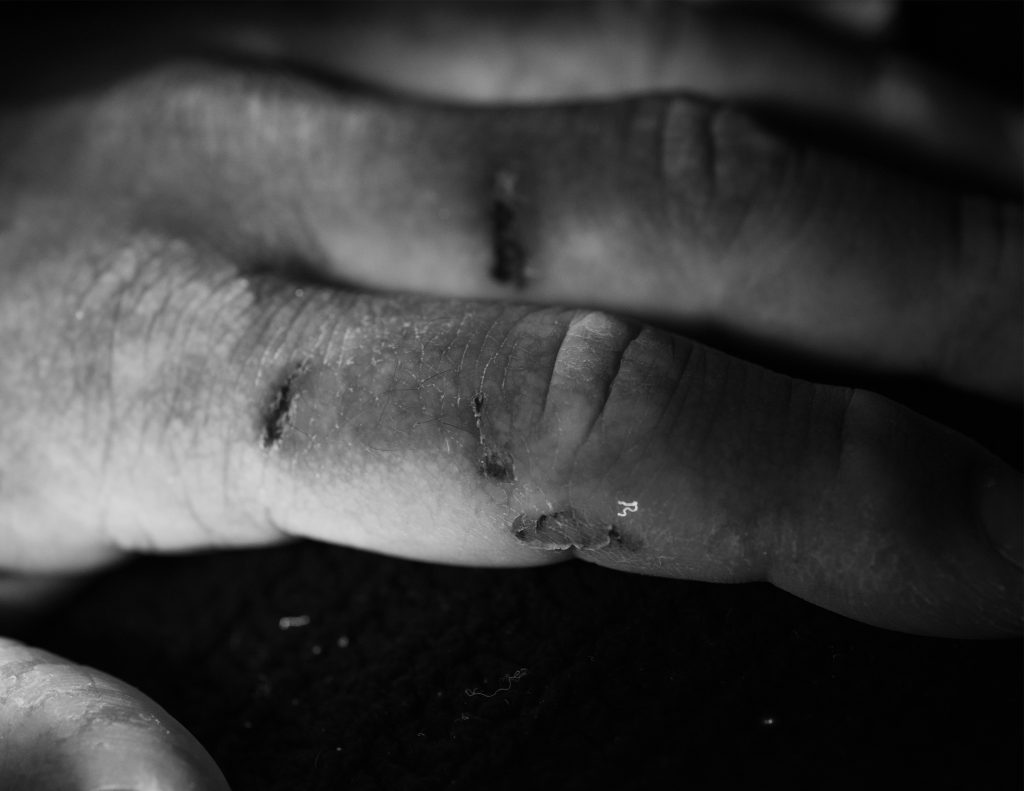 We've all seen episodes of crime shows like 'CSI: Crime Scene Investigation,' in which investigators use fancy lights to find important clues.
While we can all agree that television shows don't model real life, in the case of forensic photography, it's true that lighting can make a world of difference. The right light source can reveal crucial evidence invisible to the naked eye under normal lighting.
That's why we're raising $6,000 to purchase a specialized forensic lighting kit for the forensic photographers of SPD's Photo Unit.
Recent advancements in lighting have made it easier to capture physical evidence more thoroughly both at crime scenes and in a laboratory setting. The kit includes a specialized white light and a UV mirrored light designed for footprints and tire impressions, a ring light to capture physical injuries like bruising, and a co-axial light to capture forensic evidence on items such as CDs, DVDs, mirrors, and more.
This kit will help investigators capture shoe impressions on hardwood floors, fingerprints in dust, tire tracks in mud, bruising on skin, and much more. No donation is too small.
Please help SPD solve crimes by making a gift today.
Check out the below video showcasing the great work of one of SPD's senior photographers. This is the Unit and the staff your support directly benefits.
This video was published April 7, 2023 by SPD
Explore the content below to learn more about our past investments in investigations equipment and technology:
Audio Forensics is a discipline within the digital and multimedia evidence field for forensic science and relates to the acquisition, analysis, and evaluation of sound recordings. Audio recordings used in police investigations are typically made in uncontrolled environments where quality suffers. Voices mix with other recorded sounds, making intelligibility difficult. Recordings from body cameras, 9-1-1 tapes, and interview room recordings with poor audio can benefit from enhancements and analysis in preparation for investigative and legal proceedings. This type of forensic analysis can provide evidence that will give new investigative leads, exonerate an innocent person, or implicate a suspect. The SPD Video Unit has seen a large increase in requests to clarify and enhance audio.
Funding of this grant will be used to provide Video Unit technicians with the tools and training to properly fulfill these requests.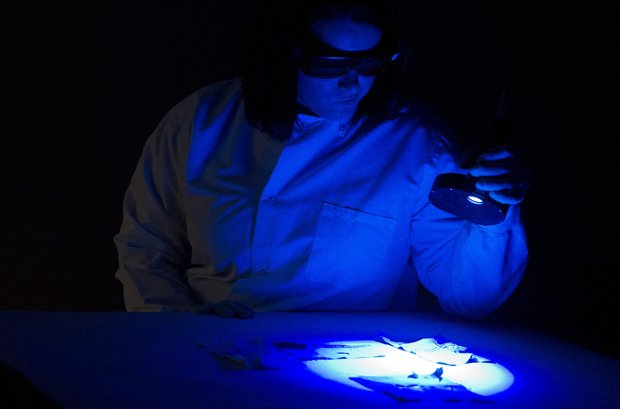 In 2018, we helped the Forensic Photo Unit and the Latent Print Unit (LPU) expand their forensic capabilities by purchasing a portable Alternate Light Source System (ALS). New technology had made the ALS system portable, making it much easier to use both at crime scenes and in laboratory settings. This investment in technology enhanced police services and provided the Seattle Police Department Criminal Investigations Bureau with an additional investigative tool that it previously did not have.
Examination of crime scenes using an ALS can assist in locating and identifying potential evidence. This type of examination utilizes the inherent luminescent properties of materials (biological fluids, fibers, latent prints) exposed to monochromatic light to help locate these items which would otherwise go unseen.
The Seattle Police Narcotics Unit is responsible for both large scale and street level narcotics enforcement. Its role is to conduct enforcement operations of all sizes that have immediate and long-lasting impacts on the Seattle community as a whole. Part of the role of SPD's undercover detectives is to conduct thousands of hours of investigative work per year. One of the most effective tools used in these investigations is photography. Combined with testimony from detectives, photo/video evidence is a powerful tool when presented to prosecutors, judges, and juries. 
In 2019, the Narcotics Unit submitted a grant request for two cameras better equipped for capturing images and video in challenging lighting. The camera previously used by the unit did not have the ability to take high quality photos or video in low light areas. Our grant gave the narcotics team the funding needed to purchase 2 Nikon D500 Cameras. 
"The direct effect of funding this grant will have an immediate impact on the quality of cases and investigations produced by the narcotics detectives. Better observations in the field, quality evidentiary photos, and stronger evidence for jurors are just a few examples," said Sgt. John Lamp.
SPD's Forensic Photo Unit collects crucial photo evidence that is used to investigate crimes. The unit uses a UVIR camera to detect evidence that can often be missed by the naked eye, such as blood on dark colored fabrics, gunshot residue, detection of document forgeries and alterations, the ability to reveal deep tissue bruising, and much more. In 2019, SPF awarded a grant to replace the existing UVIR camera, which, due to its age, had a decreased ability to accurately capture forensic evidence. 
SPF's recent grant to the Photo Unit allows photographers to provide better forensic examination services to the department, helping to solve crimes faster and more efficiently. The camera is an invaluable tool, giving investigative personnel the ability to capture physical evidence that might have otherwise gone undetected. Huge thanks to our supporters for making grants like this possible!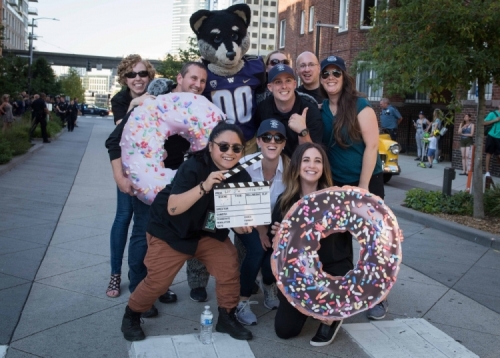 Since its creation, the SPD Video Unit has done more with less. The unit has produced nationally recognized training and general interest videos for our community with limited equipment and budget. In 2019, SPF provided a grant to refresh the Video Unit's equipment, helping the unit provide quality video production and equipping them to effectively support the men and women of SPD through visual storytelling and strategic communications.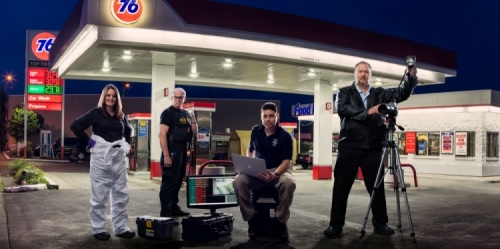 The Forensic Video Acquisition Field Kit is a portable computer workstation with video recovery tools and software used to assist forensic experts in obtaining footage from security/surveillance systems.
This type of digital evidence is used by detectives to assist in identifying suspects and/or providing leads during the early stages of an investigation. There are many technological challenges with processing footage from digital CCTV systems. The systems are often proprietary, require a password, and the footage is poor quality, but with the assistance from the SPF, the Video Unit has the advanced acquisition tools and industry software needed to provide investigators with immediate results.
On January 1, 2015, Robbery Detective Michael Magan responded to a brutal stabbing/robbery that occurred at a gas station in the Georgetown neighborhood. The victim, a man in his mid-60s, was stabbed repeatedly and detectives initially believed he would not survive his injuries. The two suspects were captured on surveillance video at the scene of the crime, and at various locations along Aurora Avenue, including the Orion Motel. 
Members of the SPD Video Unit quickly used their newly acquired technology to recover hours of footage from the crime scene and at the Orion Motel. Thanks to the recovered video evidence, physical evidence (fingerprint and DNA), coupled with great detective work by the SPD Detective Unit, both men pleaded guilty for the robbery and stabbing of the gas station owner and were sentenced in February 2016.
The Seattle Police Video Unit responds to hundreds of these types of forensic video retrievals a year. As more and more digital cameras are incorporated into devices, vehicles, buildings, etc. the need for law enforcement to acquire the most advanced forensic tools and training will continue. Unlike DNA and fingerprint evidence, digital evidence is continuously changing with technological advances in encryption, cloud storage, high-efficiency compression schemes, and network and internet protocol-based devices. Fortunately, for SPD detectives, the Video Unit has the tools and technical expertise to recover video evidence and provide ease of mind to detectives when it comes to retrieving video evidence. The unit supports detectives from SPD's investigative divisions and has recently experienced a large increase in demand for forensic video services.