Officer Safety
Officer Safety
Law enforcement is a physically demanding profession, filled with exposed and hidden dangers and a high degree of unpredictability.
Every day is different, every call is different, and SPD officers never really know what might unfold during their shifts. This dynamic, nonlinear environment appeals to many who work in law enforcement. It's one of the reasons they pursued a career in law enforcement in the first place. It's also an important reminder that SPD officers need to be prepared for anything, and the more we can do to equip them with the latest in safety equipment and gear, the safer Seattle will be.
The most common cause of death for police officers at work is violence by another human being. This is also the case for non-fatal injuries to police officers, which most commonly occur due to assaults and violent acts. Because of this harrowing reality, the Seattle Police Foundation values its work to ensure that our officers have everything they need to operate safely in any situation.
Your support allows us to continue our longstanding tradition of helping improve officer safety.
Join us in this important effort and donate today. Please explore the content below for more information about our investments in officer safety over the years. If you would like to contribute to a healthy police department by supporting officer safety, please make a donation today.
SPF provides ongoing support to SPD's Emergency Medical Technician (EMT) program, including funding for EMT training and medical supplies for SPD officers. SPD is one of the few police departments in the nation with a dedicated program for EMT trained officers, and was one of the first to deploy these multidisciplined law enforcement professionals.
Having officers who are also licensed EMTs ensures that our law enforcement professionals can begin rendering lifesaving care the minute they arrive on the scene. Your support of SPF helps make sure this is possible! Impacted by high levels of attrition in 2020 and 2021, the EMT program at one point got down to as low as forty EMT officers. Thanks to our generous donors, SPF was able to sponsor a total of 17 officers who were eager to become EMTs. In addition to paying for the officers to attend the EMT course, SPF funding purchased EMT kits/medical supplies for the newly certified officers.
In 2021, SPD EMTs came to the aid of more than 300 people suffering from life-threatening injuries. For more information on SPD's EMT program, please visit our EMT Program webpage.
In 2021, SPF replaced expired/non-working AEDs in precinct common areas so that employees can respond quickly to internal incidents of sudden cardiac arrest.
Because specialized units like the Seattle Police Department Special Weapons and Tactics (SWAT) unit are on the front lines as we work to curb increased violence across the City, in 2021 SPF provided funding to retrofit the SWAT vehicle with bullet resistant glass and doors. These added protective measures help keep our highly-trained SWAT officers safer as they execute high-risk search warrants, and respond to barricaded persons, active shooter scenes, sniper incidents, and terrorism threats. 
Seattle Police Department specialty units spend many long hours outdoors as they respond to scenes and conduct investigations, and must carry out their work no matter what the weather. Whether rain, snow, sleet, extreme wind, or scorching heat, we want them to be as safe as possible.
That's why, in 2021, SPF purchased new rain gear for SWAT and K9, replacing the worn-out, leaky 20-year-old gear they had been using to help keep them dry in our commonly drizzly Pacific Northwest weather. We wouldn't be Seattle without the rain, so this was an investment that will serve officers throughout the fall, winter, and spring months.
Additionally, we funded lightweight/warm weather protective jackets for the Motorcycle Unit to keep them comfortable as they work events during the hot summer months.
In 2020, our City, along with other cities across the country, experienced heightened levels of civil unrest that brought protests, marches, and demonstrations, which unfortunately sometimes devolved into riots. Tension was thick and SPD officers were targeted in outward attacks in which people threw rocks and fireworks at them and shined green lasers into their eyes – hazardous lasers that can cause permanent eye damage.
To quickly help address these urgent, nontraditional needs, SPF provided all SPD officers with laser eye protection, safety lights, upgraded ear protection, and fire safety kits, which contained fire-resistant face and hand protection, a personal fire suppression system, and basic first aid supplies to treat burns.
In June of 2015, SPF purchased 1,000 Combat Application Tourniquets that were given to frontline officers. These life saving devices are designed to be held on an officer's vest, for rapid, lifesaving deployment. Equipment like this is crucial in dynamic, rapidly-evolving situations where officers find themselves in unfavorable tactical environments, unable to use conventional methods to stop hemorrhaging. Wounds that might otherwise be life-threatening to an officer or victim(s) of violence can quickly become survivable using these tourniquets.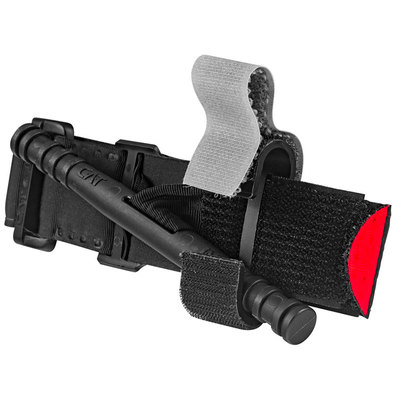 Funded through a $4,500 officer-initiated grant in 2012, the Care Under Fire Trauma Kits were distributed to the frontline officers most likely to respond to armed attacks. The kits are lightweight, wearable, and quickly accessible. Each kit provides officers the ability to treat severe hemorrhaging in an emergency situation, and potentially save their own life or the life of a fellow officer.