Meals at Precincts
Meals at Precincts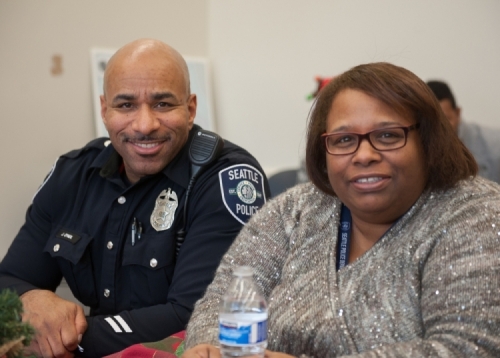 Every year, the Seattle Police Foundation collaborates with local restaurants, vendors, and volunteers to feed the hard-working SPD officers across all 5 of the city's precincts. Many law enforcement officers forgo the opportunity to celebrate the holidays at home with their friends and families, having made the commitment to keep our community safe 24 hours a day, 365 days a year.
We're excited to honor them in this small way as a token of our gratitude.
Holiday luncheons are a tradition that began in the fall of 2000 when (former) Seattle Police Foundation Board member Laurie Sorensen decided to show her appreciation for the officers of the West Precinct by providing them with holiday meals. Sorensen was the Vice President of Loss Prevention for Bon Marche/Macy's Northwest Division at the time, and started the program because it was a tangible way to show her appreciation to the officers for all their hard work.
Since then, the tradition has only continued to grow.
Your support of the Seattle Police Foundation helps remind our officers that they are seen, appreciated, and valued. Help provide meals at each precinct by making a meaningful gift today.