Seattle ACS
Seattle Auxiliary Communications Services (ACS)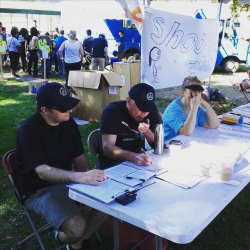 Seattle's Auxiliary Communications Services (ACS) is a volunteer emergency unit made up of radio operators that help support and augment communications throughout the City in the event of a natural disaster or emergency. ACS is an important unit that helps provide communication when phones are down, and traditional communication channels are interrupted. The unit provides support to the City and its partner agencies during emergency response and recovery operations.
This radio network has emerged as the mechanism for communicating within Seattle Emergency Hubs, across the City, and within City government.
Because this unit's work is so critical in helping the city maintain contact during emergencies and can help provide law enforcement and relief efforts with critical information during a disaster, past SPF fundraising initiatives have helped pay for upgrades to ACS radio and communication equipment.
Your support of the Seattle Police Foundation helps make Seattle safer during emergencies!
For more information about Seattle ACS, visit the ACS website. To help the Seattle Police Foundation support this vital work, make a donation today.