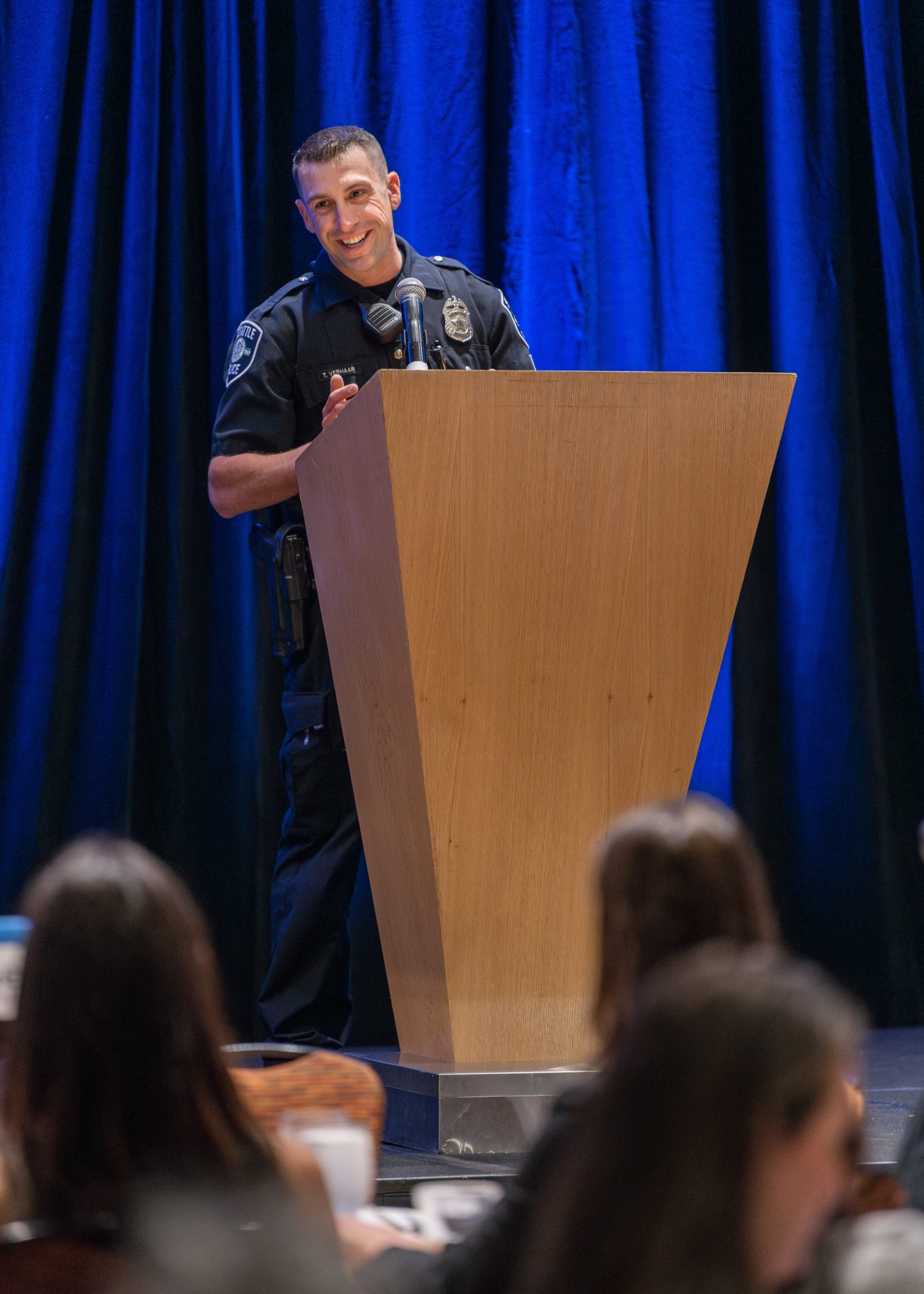 FOR IMMEDIATE RELEASE: July 14, 2023
Media Contact:
Chris Hendrickson, Communications Manager
Seattle Police Foundation
425-205-0328 ● chris@seattlepolicefoundation.org
SEATTLE, Wash. – This week the Puget Sound Business Journal recognized Seattle Police Department EMS Coordinator / Safety Officer Tyler Verhaar as one of its 2023 Health Care Heroes.
Officer Verhaar was one of 16 honorees recognized during PSBJ's Health Care Heroes luncheon, which took place Thursday, July 13 in Seattle. Honorees were celebrated for their important work on the front lines of health care in the greater Seattle area. The nomination, judging, and selection process was overseen by the Puget Sound Business Journal's panel of judges, which focused on identifying and honoring front-line workers who have made an impact on health care through demonstrated concern for their patients, innovative programs, and other efforts that go above and beyond.
It was Officer Verhaar's unwavering commitment to the preservation of human life that earned him the nomination.
"We felt that Officer Verhaar's tireless work to champion and lead the Seattle Police Department's EMT Unit was a perfect fit," said Seattle Police Foundation CEO Cherie Skager. "Thanks to Tyler's dedicated advocacy, SPD's EMT-certified officers are performing more lifesaving medical interventions than ever before, and it's making a real difference in the Seattle community."
The mission of SPD's EMT Unit is to provide lifesaving medical aid to the victims of violent crime until traditional EMS professionals arrive and are permitted to enter the scene. The goal is to bridge any gaps, extend the continuum of care, and save as many lives as possible. SPD is one of the few police departments in the nation with a dedicated program for EMT-certified officers, and was one of the first to deploy these multidisciplined law enforcement professionals. SPD EMTs are integrated into various sections within the department, with the majority serving in the patrol operations division.
In addition to his work with the EMT Unit, Verhaar is the co-creator of SPD's nationally recognized Law Enforcement Casualty Care (LECC) training, a dynamic, reality-based curriculum that gives every SPD officer a solid foundation in emergency medical care.
Because the EMT Unit is not supported by the City of Seattle, Seattle Police Foundation donors provide the funding necessary to pay for training and the medical supplies needed to sustain this vital Unit. For more information about the EMT Unit, visit: https://seattlepolicefoundation.org/emt-training/.
The Seattle Police Foundation raises support and awareness for the Seattle Police Department. We are a 501(c)(3) nonprofit and have proudly served the men and women of SPD and the Seattle community since 2002. Please learn more about us on our website.