Officer Wellness
Officer Wellness
At the Seattle Police Foundation, supporting the men and women of the Seattle Police Department and making sure they feel seen, heard, valued, and appreciated, is the cornerstone of our mission. It is the underlying reason why we do what we do.
We've always been dedicated to Officer Wellness, but in 2021 we decided to double down. We aimed high. We got ambitious. We set lofty goals. We achieved great things.
But we're far from done.
In September of 2023 we held our annual Blue Tie Ball, our most important fundraiser of the year. We invited SPF Board Member and retired Seattle Police Captain Jim Dermody to the stage to speak to the cause of wellness, because he is someone who understands firsthand the toll that law enforcement can take. Thanks to Jim's powerful words and a very generous community, Blue Tie Ball raised almost $200,000 for Officer Wellness.
To read Jim's remarks from Blue Tie Ball 2023, please click here.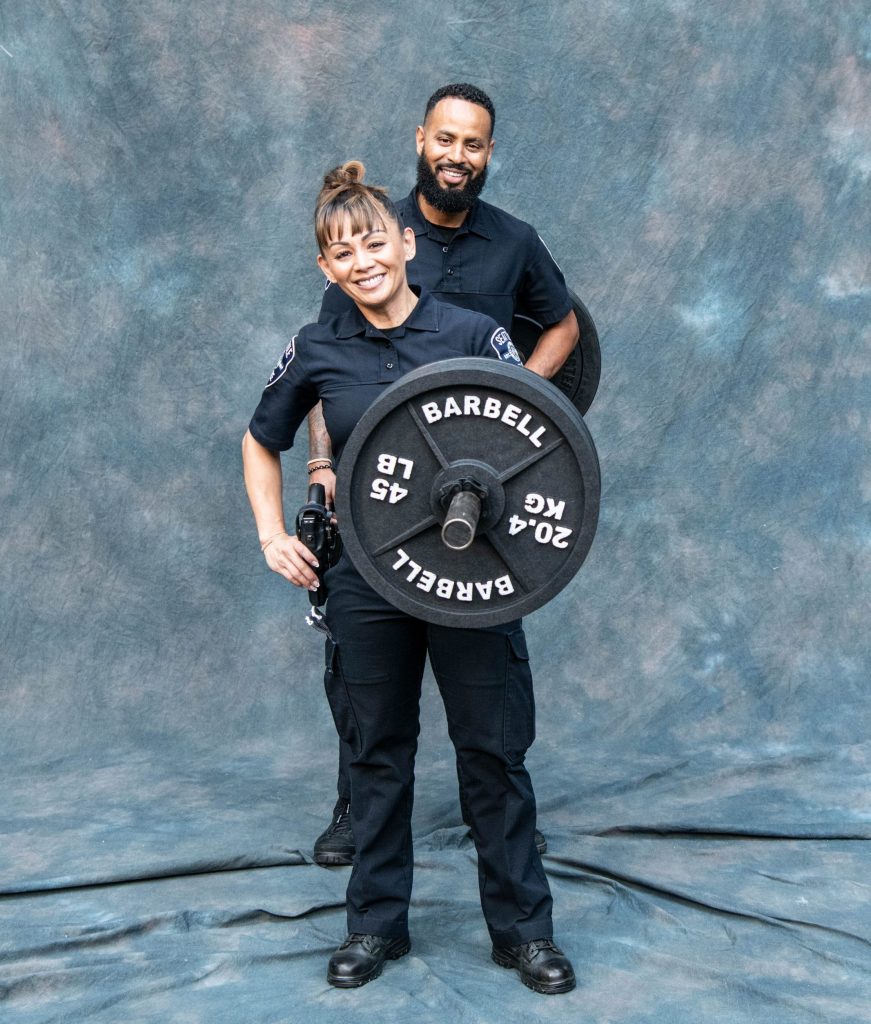 The Seattle Police Foundation is excited to work with SPD to discover and implement programs and projects that provide tangible, innovative, accessible, and discreet pathways to improved officer wellness. We strive to invest in effective, contemporary solutions that make sense in today's fast-paced world. SPD officers are busier than ever, which is why it's imperative that they're able to access help quickly and easily any time they need it.
Your support of the Seattle Police Foundation helps improve officer wellness by showing our officers that they are seen, heard, and valued.
Precinct Renovations/Break Room Improvements
In 2022, we launched an initiative to renovate the dilapidated break areas in all five of the SPD precincts. The improvements were based on the distinct needs of each individual precinct, and were meant to boost morale and give officers nicer, more serene spaces to decompress during their breaks. In 2023, we broadened our efforts and found other meaningful ways to enhance SPD's common spaces. Find more details about each of these projects below. These projects are made possible through generous contributions from our donors and in-kind donations from our partners and supporters.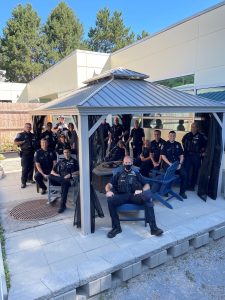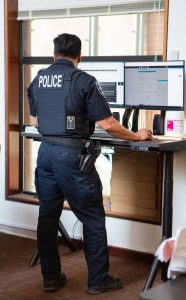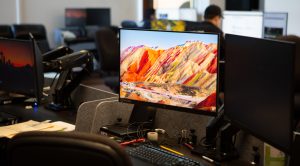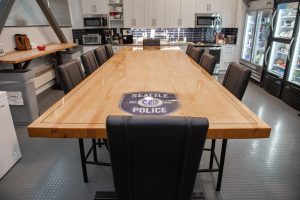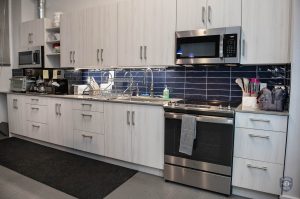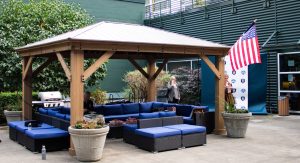 October 2023: This project is currently under construction. Check back for updates!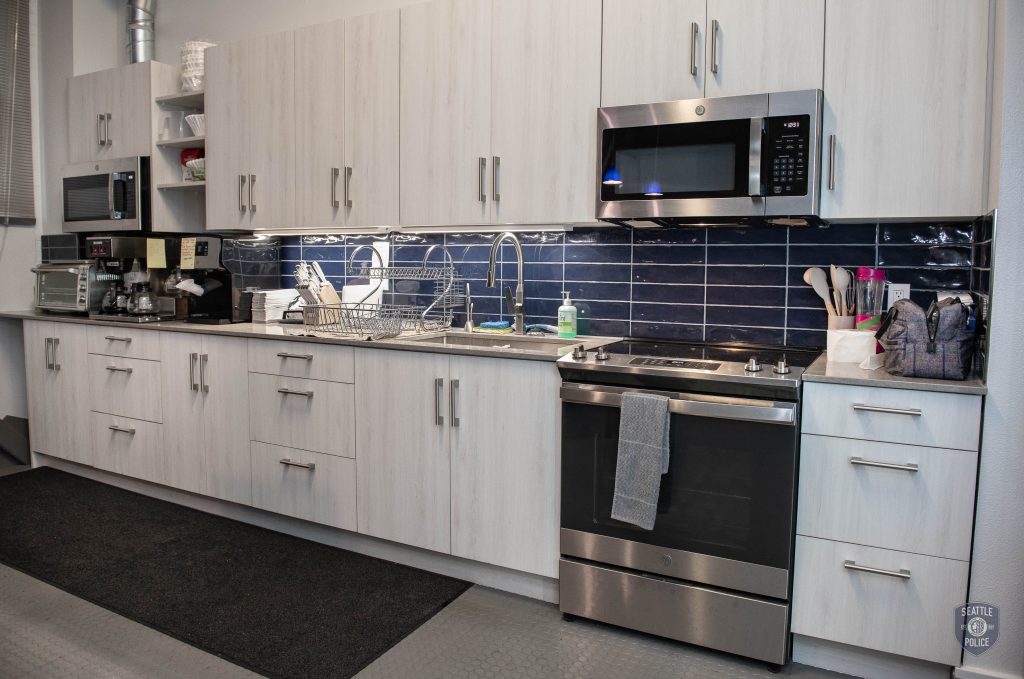 In November of 2022, we hosted an open house at SPD's East Precinct to show off the transformational kitchen improvement project spearheaded by SPF board member and Compass Construction President Frank Stauff.
This project completely updated the aging kitchen and dining area at the East Precinct, and turned it into a vibrant, functional, welcoming space to better serve SPD officers, staff, and guests. This 100% in-kind project was led by our friends at Compass Construction and brought to fruition by a team of talented contractors, including Interior Logic Group, SJS Mechanical LLC, Haggard Electric, Ancient Stone Works LLC, and Cabinets Northwest – CNW.
This project was a great fit for Compass, which specializes in large scale, multifamily residential projects. Stauff was able to leverage the excellent relationships Compass maintains with its subcontractors, who were eager to be involved. The centerpiece of the room is a custom-built fir dining table, laminated to hold a beautiful, glossy shine, and decorated with the Seattle Police Department logo. Other standout features in the newly modernized space include gorgeous blue tile backsplash, updated lighting, sleek pale grey cupboards, a large, glass-doored refrigerator, stunning marble countertops, and new appliances. The new kitchen is both elegant and sturdy and has earned rave reviews from officers and staff.
Additional miscellaneous enhancements at the East precinct included a new coffee maker, plates, a vacuum cleaner, and new lounge furniture.
The improvement project at North was spearheaded in 2022 by SPF board member and Seattle business man Zach Laster-Hazzard.
The project was tricky from the start. We were faced with the prospect of reimagining the "mud hole" behind the North Precinct, a humble space wrought with fierce challenges. But Zach didn't balk. He called upon family and resources established through his business, Rainier Valley Partners (RVP), a Seattle-based company that acquires, develops, and manages multifamily properties. Faced with the notorious size limitations that exist at North, he had to work within a tightly-packed footprint and find ways to maximize what was available and transform it as best he could.
He recruited a landscaping professional to come in and clear, level, and pack the space. Because the ground was so prone to mud in our commonly wet weather, the landscaper covered the newly-smooth base with attractive concrete pavers. Once this foundational layer was complete, Zach, along with a team of family members and business colleagues, built and installed the gazebo, added lighting, and enhanced the outer perimeter with container gardens and other plantings.
Thanks to RVP and friends, the North Precinct "mud hole" was transformed into a useful, welcoming space! The project was completed in the fall of 2022.
Other improvements at North, funded largely with HomeStreet Bank's 2021 year end gift to officer wellness and morale, included an indoor coffee station, an ice maker, two refrigerators, storage compartments, a barbecue, and most recently, new indoor plants to liven up the precinct's interior areas.
We are grateful for Zach, his family, HomeStreet Bank, and our donors, whose generosity has helped move our precinct improvement project forward.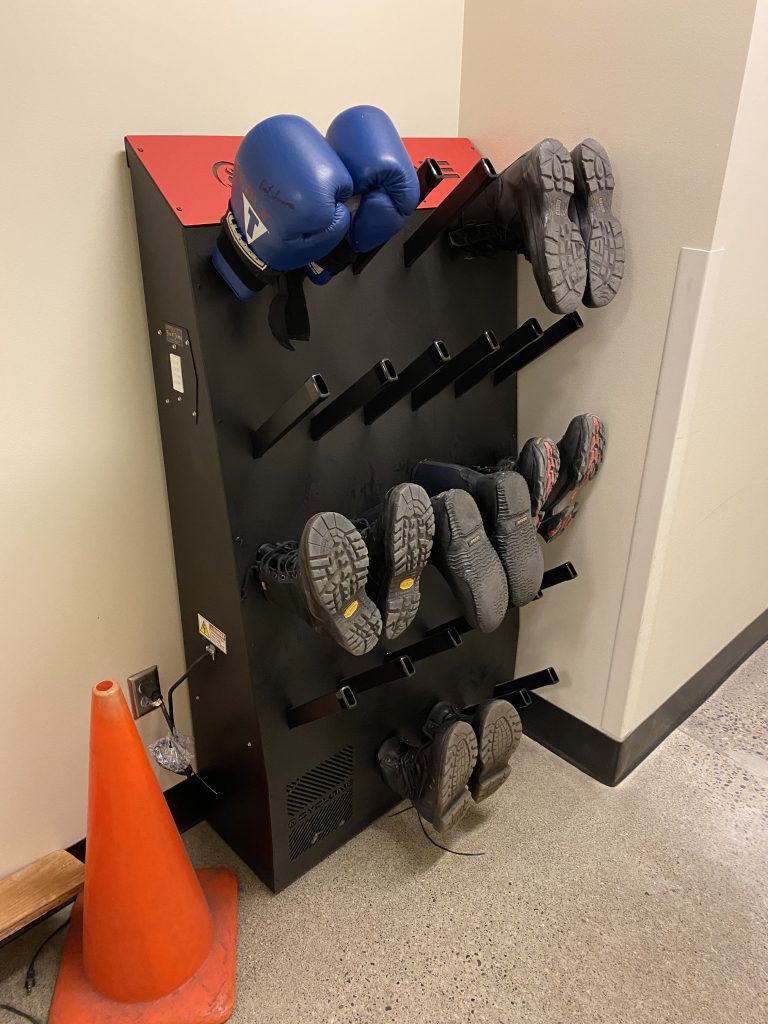 SPF's improvement efforts at the West Precinct included a gazebo positioned in the precinct's previously underutilized courtyard space, an array of outdoor furniture with tons of comfy seating, and durable weather-proof cushions. Indoor enhancements included a new TV stand, table, two recliners, a couch, microwave stand, and new silverware.
Another improvement at West included a 14-pair Cyclone Boot Dryer system, which plugs into a standard outlet and is powerful enough to dry up to 14 pairs of soggy boots and/or gloves within about an hour. The gear dryer has been a hit with West Precinct officers, whose boots and gloves tend to end up soaked in Seattle's typical drizzly weather. Before the gear dryer, they'd sometimes start their shifts wearing wet boots or gloves, because it was still damp from the previous day.
"The gear dryer was an investment in our officers' well-being, and we really appreciate it," said Assistant Chief Daniel Nelson. "It is very popular and we're grateful for the SPF donors that made it possible."
The improvements at West were completed in 2022 thanks to HomeStreet Bank, Motorola Solutions Inc., Motorola Solutions Foundation, and other SPF donors.
Reimagining and modernizing the write-up room at SPD's South Precinct was our inaugural project in 2022.
The overall vision for the write-up room was to create a more functional space, conducive to collaboration and training, with added comfort, ergonomic enhancements, and improved technology. This was accomplished with the addition of 10 customizable workstations, which can be used from a seated or standing position. Each workstation is equipped with adjustable monitor mounts holding two monitors, plus wireless keyboards and mice.
Near the windows there is a comfortable lounge area, with two black leather couches and a small table. Stationmaster Paul Greeley envisioned this as a place where FTOs could relax but remain accessible to newer officers learning best practices of report-writing. A large-screen television is mounted on the wall above the workstations and within view of the couches.
Other improvements at South included a new popcorn machine and furniture for the outdoor break area.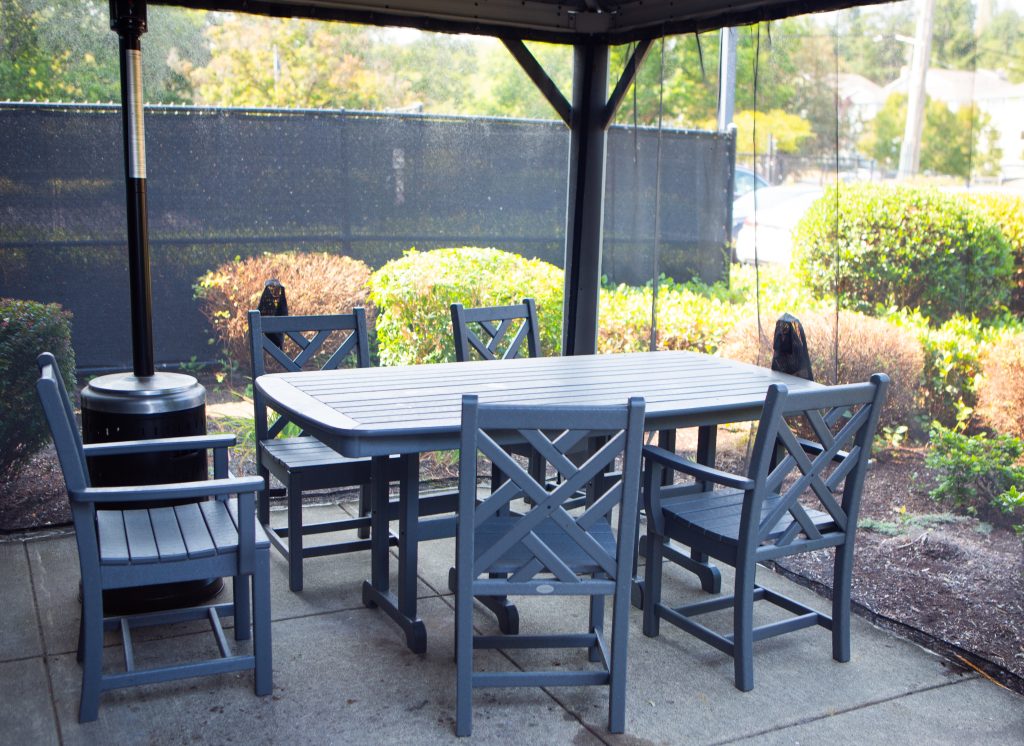 At the Southwest Precinct, SPD's newest precinct, we focused on creating an outdoor break area that was more versatile and functional than what existed previously.
To do this, we purchased two separate gazebos, upgraded outdoor seating, a weather-proof picnic table, and assorted cooking supplies.
Our improvements inside the precinct included two indoor murals, one to honor Seattle's fallen officers and another Seattle-themed mural inside the roll-call room, plus a few enhancements/additions to the bunkroom. Miscellaneous items purchased for the bunk room included privacy curtains, an air purifier, nightstands, clip-on fans, and a laundry hamper.
We want to give a huge shout-out to Southwest Stationmaster Rob Hoffer, for his hard work in assembling the two gazebos and positioning everything cohesively inside the two covered spaces, plus all his work coordinating the indoor improvements. Rob's sweat equity helped our funding go even farther, and we're very grateful. This project was completed in early 2022. 
Why Wellness?
When officers start their shifts every day, they have no idea what types of scenarios they'll face or what forms of suffering they'll encounter. First responders are consistently exposed to a variety of traumatic events and situations, including child and domestic partner abuse, violent crime scenes, gun violence, suicides, disasters, car crashes, homicide, and more. This relentless exposure to trauma can have severe repercussions, resulting in things like police officer suicide, depression, substance abuse, domestic violence, heart attacks, cancer, disability, and PTSD.
These are the hidden dangers of a career in law enforcement, and can be the result of chronic and cumulative unmanaged stress. It can leave behind indelible scars.
A mobile wellness app, emotional support dogs, and Wellness Unit team-building activities are just a few of the ways we support officer wellness – find more details below! If you would like to contribute to a healthy police department by supporting officer wellness, please make a donation today.
At SPF we support many different pathways to wellness, one of which is physical fitness. Being a patrol officer is a demanding job that can take a toll mentally and physically, and exercise is a great way for officers to mitigate some of the stress. Exercise is proven to lower anxiety, improve quality of sleep, and reduce tension, while boosting mood and enhancing brain function. Having quality equipment at SPD's various precincts and specialty units is vital to wellness, as it makes fitness more accessible to everyone.
This is why when we receive requests from the Seattle Police Gyms Association, we are all ears!
In early 2022, we purchased $30,000 worth of athletic equipment for the Seattle Police Gyms Association to allocate to different precinct gyms based on need. This investment allowed the Seattle Police Gyms Association to add one brand-new piece of equipment to nearly all the Department's gyms.
The items included:
North Precinct – Life Fitness seated leg extension and leg curl combo machine
South Precinct – True Fitness plate-loaded leg press
Southwest Precinct – True Fitness plate-loaded leg press
East Precinct – True Fitness stair climber cardio machine
Harbor Station – True Fitness stair climber cardio machine
West Precinct – True Fitness chest fly/rear delt machine
Additionally, in late 2022 we received a $10,000 donation from the Warehouse Group, to be dedicated to the West Precinct. The funding was used to purchase a new pair of power racks and storage solutions to replace the gym's older, flimsier ones. This equipment was added at the West Precinct gym.
"The Seattle Police Gyms Association is so incredibly grateful for the generosity and support for officer health and fitness, and our officers thank you dearly," said Officer Jeremy Farkas.
In addition to the athletic equipment, in 2022 we purchased lifesaving AEDs for each precinct gym.
When we invest in the Quartermaster Unit, those investments not only benefit SPD as a whole, they benefit the Seattle community as well.
During community celebrations, holidays, and other notable city events, the Quartermaster Unit deploys off-site to better serve the officers on duty. These mobile command posts, sometimes more than one per event, are positioned throughout the city based on need. This means that the Equipment and Facilities Coordinators of Quartermaster Unit must essentially create temporary mobile "precincts" so that patrol officers can conveniently grab snacks and meals, use the restroom, wash their hands, rest, and recharge.
To help them do this, we've used contributions from our donors to invest in things like a commercial grill with various accessories, a smoker, an ice maker, an ice cream machine, a portable freezer, and more, all of which are transported and utilized on site.
These items contribute vitally to the mission of public safety, by keeping SPD officers fed and hydrated throughout their long shifts.
Equipment and Facilities Coordinators with the Quartermaster Unit are truly the unsung heroes of SPD! As an example, during MLB All-Star week 2023, they were joined by SPD Stationmasters from multiple precincts, who all worked tirelessly to set up and tear down the command post, coordinate logistics, procure the needed supplies, prep, cook, and serve the food, and much more. Yes, you heard that right. The talented and very versatile men and women of the Quartermaster Unit cook for the entire police department, and sometimes for the community as well!
We are grateful for all the generous donors whose support keeps the men and women of the Seattle Police Department comfortable and fed during holidays and events including Independence Day, Seafair, MLB All-Star Week, the Torchlight Parade, plus many others not mentioned here.
We are grateful to the Quartermaster Unit for everything they contribute to public safety in Seattle.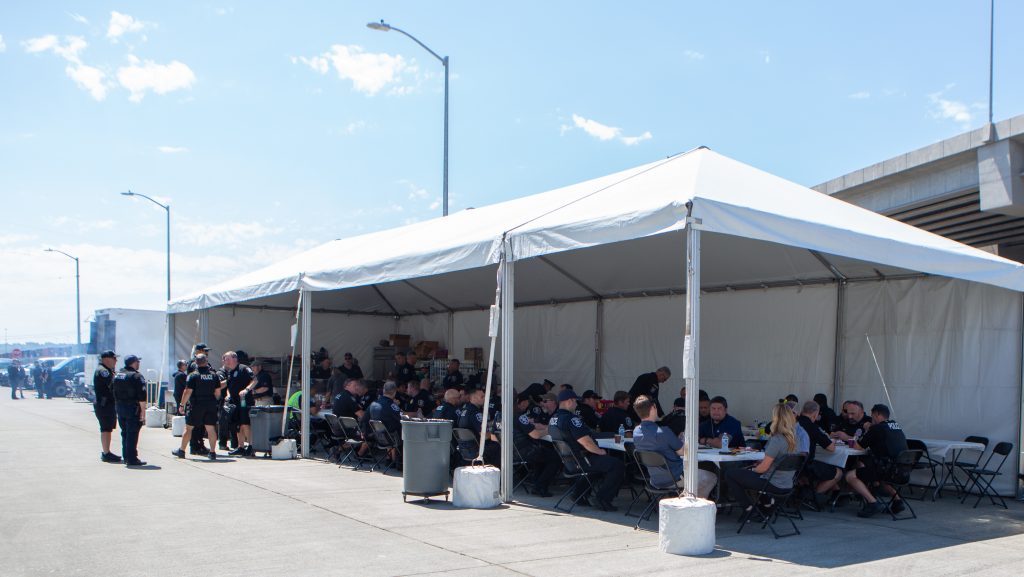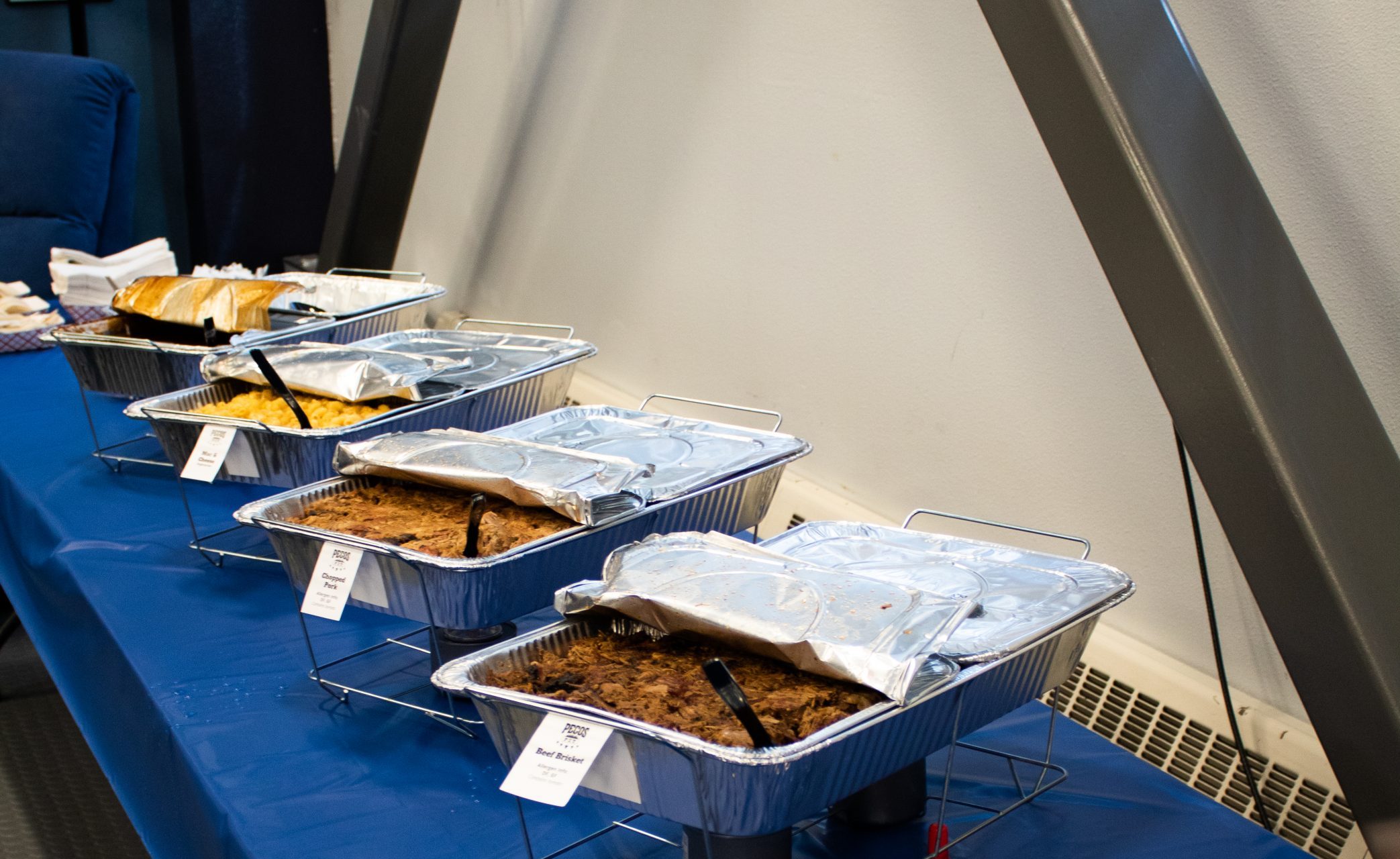 At the end of 2022, former Seattle Police Foundation Board Member Dan Quatier generously donated $10,000 on behalf of his consulting firm, Interior Tech, to help support officer wellness, retention, and morale.
The money has allowed us to provide snacks/meals to officers at each of SPD's five precincts on a monthly basis throughout 2023.
To keep things exciting, we've alternated between different restaurants, including Pagliacci Pizza, Pecos Pit BBQ, Trophy Cupcakes, and Top Pot Donuts. In order to facilitate a more custom approach, we added Costco gift cards into the rotation, so that each precinct's stationmaster could base that month's meal on officer preference.
Dan and others at Interior Tech were inspired to make this gift because they wanted to make sure the men and women of the Seattle Police Department know how much their hard work is appreciated. With so many officers retiring and/or leaving Seattle for other agencies, Dan wanted to send a tangible message of support, and monthly meals and snacks seemed like a great way to do that.
Huge thanks to Dan Quatier and Interior Tech for showing the men and women of SPD that they're seen, honored, and appreciated.
Because tools that are instantly accessible at the touch of a phone screen have broad appeal and make sense for our officers, SPF secured grant funding from the Motorola Solutions Foundation to help pay for a mobile wellness app called CordicoShield. CordicoShield is specifically tailored to address the needs of law enforcement professionals, and includes videos, articles, and guides meant to support those in high-stress occupations. The mobile app is dynamic, offering a range of self-assessments and continuously updated videos and guides.   
To help reduce officer stress, in 2022 we collaborated with the SPD Wellness Unit, America's Vet Dogs, and Courthouse Dogs to welcome three emotional support facility dogs to SPD's wellness team. These working dogs are mobile, and are able to spend time at any of SPD's precincts and facilities based on need. They are trained to generously provide support, love, and affection to anyone impacted by trauma or in crisis.
Animal-assisted therapy is a proven technique known for its effectiveness across therapeutic realms. Dogs are smart, have an incredible capacity for love and healing, and can help reduce stress, depression, anxiety, and sadness.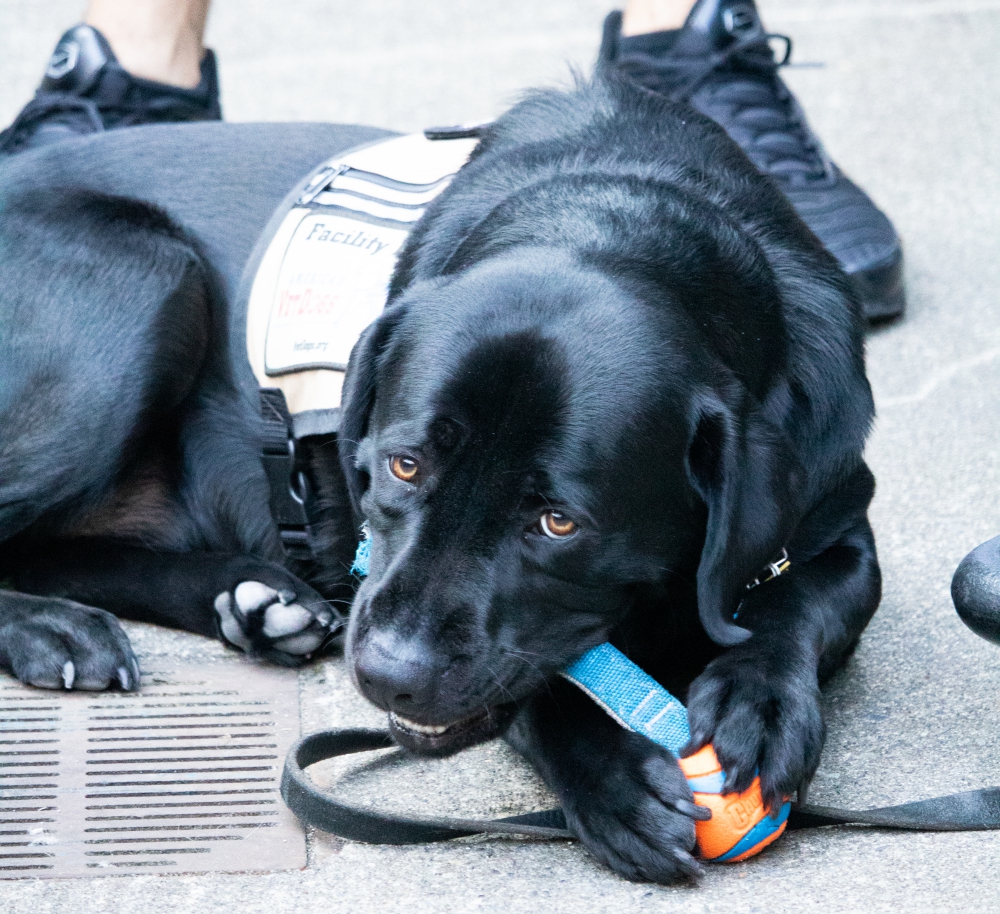 The Wellness Unit is one of SPD's newer units, and is aimed at proactively supporting officer wellness, morale, and retention. The Seattle Police Foundation is proud to support the unit's various athletic team-building events, including the annual Turkey Bowl, its department-wide fitness combines, a 3-on-3 basketball tournament, and more.