Bike Training Equipment
Bike Training and Equipment
SPF is proud to financially support safer bicycle helmets and specialized crowd management training for SPD's Bike Squads. These funds supported both officer and public safety.
Despite the challenges police officers have recently faced, SPD's Bike Squads have been able to use cutting edge helmets that provided them with added safety and flexibility in the field. SPD Bike Squads additionally implemented newly acquired crowd management skills that made them more effective in protecting themselves, the public, and businesses in downtown Seattle.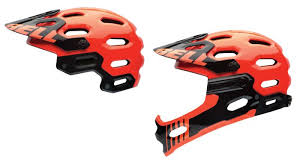 The Bell Super 2R helmet is cutting edge equipment that provides the necessary protection for police in riot control situations. The removable chin bar allows Police Officers to have just one helmet that can be used with our without the added face protection.
SPD Bike Squad officers attended internationally recognized training in crowd management and control. These courses were developed by experts in the fields of police, EMS, and security cycling, and are used by public safety agencies around the world. Several SPD Bike Squad Officers, some of whom are longtime veterans of the department, stated it was the best training they had ever attended. As a result, they were the most prepared for May Day 2015 because of the class – Officers stated the training gave them the confidence and skills to execute crowd management maneuvers under highly stressful surroundings, and within a crowd intending to stop the bicycle squads from being effective.