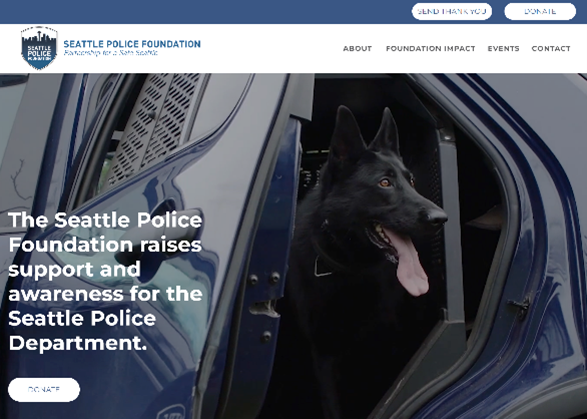 New site offers renovated content, improved ease of use, and better mobile access
FOR IMMEDIATE RELEASE: January 31, 2023
Media Contact:
Chris Hendrickson, Communications Manager
Seattle Police Foundation
425-205-0328 ● chris@seattlepolicefoundation.org
SEATTLE, Wash. – The Seattle Police Foundation is excited to share its newly renovated website, featuring a vibrant, modern look, along with new and updated content that more accurately reflects the Foundation's priorities.
The previous website had reached the end of its useful life and was due for a refresh. The new site is meant to showcase SPF efforts to meet the needs of the Seattle Police Department with compelling, frequently-updated content, dynamic video, and new imagery.
"We are thrilled with how the website turned out and invite everyone to spend some time browsing our content," said Seattle Police Foundation President and CEO Cherie Skager. "The site is easy to navigate, mobile-friendly, and much easier to maintain and update."
The new site features fun, informative content that is not found elsewhere, including details about the Seattle Police Department's Mounted Patrol Unit, the Harbor Patrol Unit, the EMT Unit, K9, Safe Place, and more. There is an active newsroom that collects and highlights Seattle Police Foundation news, media advisories, and giving campaigns, plus earned media stories, and other updates.
The Seattle Police Foundation raises support and awareness for the Seattle Police Department. We are a 501(c)(3) nonprofit and have proudly served the men and women of SPD and the Seattle community since 2002. Please learn more about us on our website.
###